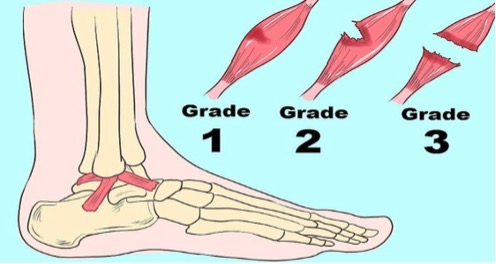 'Ankle Sprain'
It's been a while since we've done a blog so we thought we would kick it off again with the classic ankle sprain!

The three little red bands you see on the outside of the ankle above are the most commonly injured ligaments when you roll your ankle inwards (the most common type of ankle sprain).
Depending on the severity of the roll, determines how many and how badly you can damage those ligaments!
As you can see, the different grades indicate the different severities.
One of our pet hates which unfortunately happens quite often is people are given poor advice and education regarding the management of these injuries.

First and foremost, if you sustain an ankle sprain, give one of us a call! We will guide you through the necessary steps to take early on.
We like to use the POLICE acronym which stands for (Protect, Optimally load, Ice, Compression and Elevation) early following an ankle sprain in order to achieve a timely outcome.
Following this, we will direct you into the clinic to have your ankle assessed so appropriate rehabilitation can begin! This usually consists of regaining your range of motion, ankle stability, ankle strength and normal daily functioning.
For those who want to return to sport, we facilitate this through rehabilitation too!
Yours in health, ISO Physiotherapy